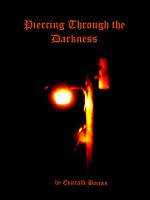 I recently read Piercing Through the Darkness by Emerald Barnes. I love the book and I plan on reading more books by the author. It was a great read. It combined action with a little bit of romance. This is a book I plan on keeping in my Kindle collection. I liked the words that the author used. It didn't have a lot of description, but enough to where you could picture things the way you wanted to envision them.
It was the perfect amount. In a book I don't like too much description because I don't feel like I get to use my imagination. The characters were very believable. It was fun to read and I hated when I had to put the book down. It was one of those books where you could keep reading and not know you had read a second chapter. Its a real page turner. I give it ***** Stars!
Product Description:
It's on the edge of her memory like a word on the tip of her tongue, but Kandi can't remember what it is to save her life.
Despite being a cop, Jimmy can't protect Kandi from the one thing that haunts her. She's in danger and doesn't even know it. After it happened, her brain repressed her memories of the accident, and now, she's taking a Biology class under a man who wants to see her dead. The memories have started coming back, and it feels like she's miles away from him. How can he protect her when she doesn't even know she needs protecting?
Can these characters pierce their way through the darkness?
Kindle:
http://www.amazon.com/Piercing-Through-the-Darkness-ebook/dp/B004P1IYLW
Smashwords:
http://www.smashwords.com/books/view/75834
CreateSpace (Paperback):
https://www.createspace.com/3658289
YouTube Book Trailer:
http://www.youtube.com/watch?v=vIeCI4_3ipc